News
Making Change: Stacie Davis uplifts community through Ivy Heritage Foundation
For AgFirst Lead Auditor Stacie Davis, the connection between the bank and the Ivy Heritage Foundation of Irmo, Inc. (IHF) goes beyond a simple donation – it's a testament to the unwavering community support that AgFirst exemplifies. 
Davis proudly serves as secretary of the foundation. Through her six years engaged with the foundation, she has been uplifting her community in Lexington and Richland counties by promoting programs focused on advanced education, a better quality of life, entrepreneurship and self-sufficiency. 
For the past three years, she has been able to secure event sponsorships from AgFirst, which partners with its employees to identify and support worthy causes in our region. 
IHF has been at the forefront of nurturing academic, health, social and cultural development in the community for a decade. The organization's roots lie in Alpha Kappa Alpha Sorority, Inc. Upsilon Omega Omega Chapter, to which Davis belongs. 
Davis' journey began as a volunteer helping with the foundation's annual fundraiser and scholarships. After volunteering for a year, she then served as treasurer, where her accounting expertise aided the organization's finances. Her dedication to the cause ultimately saw her continue her service on the board as secretary.
 "Serving on the foundation is a way to contribute to my community and play a part in making it better," Davis said. 
The foundation has introduced numerous initiatives to support the community, including the Green Iceberg Community Garden in partnership with the town of Irmo, S.C. This garden, the first of its kind in Irmo, offers enhanced access to food, nutrition and physical activity. It boasts 60 raised fruit and vegetable beds, an irrigation system and a four-tier water fountain. 
IHF also focuses on health, hosting an annual women's empowerment luncheon addressing crucial women's health issues, including Alzheimer's, infertility, mental health, breast cancer and diabetes. The foundation goes a step further by donating to related organizations every year focused on a specific health issue. 
The foundation's commitment to education is demonstrated through its annual scholarship program, which invests in the future leaders of tomorrow. As treasurer, Davis witnessed the impact receiving a scholarship meant to students when she wrote and distributed the checks. "It was inspiring to see students provide a thank-you note expressing their gratitude and discuss how much a scholarship helps them," Davis said. Last year, the foundation provided nine scholarships to high school seniors, enabling them to pursue their college education. 
Davis' dedication to the foundation mirrors her commitment to volunteering and helping families in need. "It aligns with what I'm trying to do in my personal life – volunteering more in the community to assist more families. We want to make our community better; we want to create opportunities for kids who might not have many," Davis said. 
To fund scholarships and community programs, IHF hosts an annual Jazz and Art Night – an engaging cultural event featuring a silent auction, live jazz, a DJ and a live artist. This year marked the third year AgFirst sponsored the event with a $1,000 donation to support the foundation's community-based initiatives.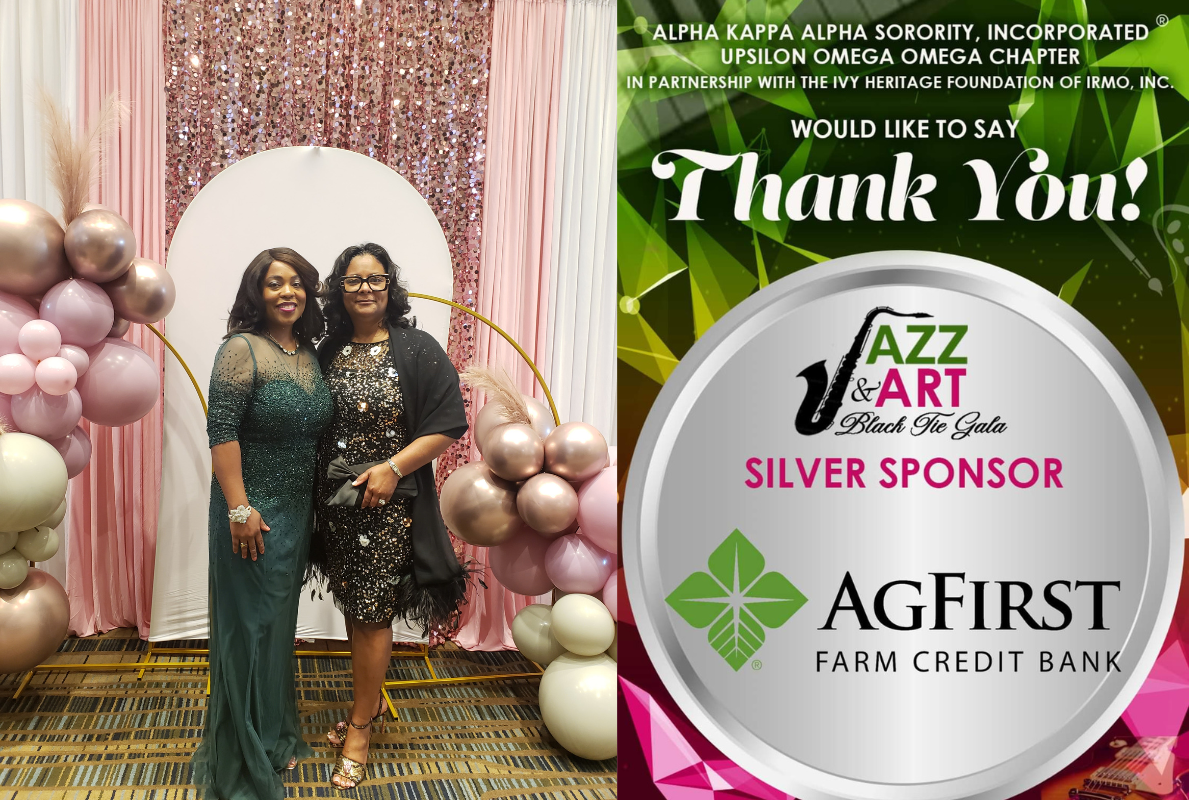 Stacie Davis (left) at this year's Jazz and Art night.
"The fact that we have partners who will help us make our community better is very important," Davis said. As a nonprofit, community partners like AgFirst are vital for the foundation's continued success because, as Davis notes, "we can't do it by ourselves."